Client List
Paul McCartney · Queen · The Pet Shop Boys · Parlophone Records · A.G. Edwards · AmerenUE · Budweiser · Haxan Films (The Blair Witch Project) · Motorola · MTV · Dale Carnegie · Lifeway Publishing · Kendall-Hunt Publishing · U.S. Men's Olympic Bobsled Team · Gently Spoken Communications · The Holt Team Real Estate · Heard Above the Noise · Speaker: Sherman Whitfield · The Divorce Whisperer: Marta J. Papa · Becky Robbins Designs · and many more… (Click here for case studies.)
Award Winning Video Projects
I have had the pleasure of working on a variety of video projects throughout my career. Here are just a few that I have been involved in.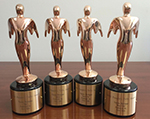 Role: Producer/Director/Camera
Role: Producer/Director/Camera
The Values Conversation
Problem: Marketing strategy and content development plan
Solution: Worked with the client to develop an overall marketing and branding strategy for the company. Also helped develop a line of educational videos for their clients that are delivered three times per week via an email drip campaign. I continue to work with this client developing new content and expanding on their marketing strategies.
Becky Robbins Designs
Problem: Online presence and social media content development and planning
Solution: I worked with Becky to re-develop her website, as well as create a social media marketing plan and content development calendar. We created video content that looked like an HGTV design show that showcased Becky's personality and work. We also developed a short web series working with our local Habitat for Humanity Restore, to help promote the store and the creative use of items that you could find there. Our initial launch drew over 15,000 viewers to Becky's video in less than 7 days.
Marta J. Papa – Lawyer
Problem: Overall marketing plan, content creation, book development and marketing
Solution: I have been working with this client for over 20 years. In that time we have developed multiple websites, as well as created numerous videos and online courses for the client to use as products to sell to other lawyers for continuing education credits. I also worked with her to develop the concept for her first book, including helping with cover design concepts and grass roots marketing efforts.
Consumer Products Company
Problem: Marketing and branding strategy. Develop relationships with vendors and other CPG companies
Solution: I worked with this client on grass roots marketing efforts to sell and launch their outdoor chair product line. I helped update website content, created new online ad campaigns, helped with on the ground direct to consumer sales, and re-branding efforts. I also helped create marketing materials to develop a relationship with a national big-box retailer in hopes they would agree to carry the product.
End Result: Retailer agreed to carry the product in their stores. We were also able to help create a relationship with a major outdoor lifestyle brand that agreed to work wtih the client to develop future co-branded products.
National Mortgage Broker
Problem: Branding and marketing collateral wasn't consistent. Decentralized marketing efforts
Solution: This client has multiple branches spread out across the United States. All of their marketing efforts we being handled at the Loan Officer level, which made for inconsistent branding and messaging. I worked with the client to develop and plan and processes to allow their corporate marketing department to have more control over the marketing collateral that was being sent out by staff. This also freed up time for their loan officers, allowing them to concentrate on their relationship building and the origination of new loans.
National Mortgage Broker #2
Problem: Reputation clean up and re-branding from local lender to national lender
Solution: This client needed help in cleaning up their corporate reputation after a transition in ownership. I helped them develop and implement a re-branding campaign that included re-developing their website, re-writing all of their radio ad copy, re-training their sales staff, and producing higher quality television commercials to introduce them to a new audience of potential customers.
LIfeway Publishing
Problem: Conversion of back catalog of print books to digital e-reader files
Solution: My team of programmers and I developed a methodology for quickly converting Lifeway's print layout files into Apple iPad and Kindle eReader files. Over a six month period, we were able to help the client convert over 1200 books in their back catalog and make them available for sale.
Delmar Publishing
Problem: Needed interactive, online training materials to support text books
Solution: I worked with the client to develop the concepts for interative games that would support specific concepts within their text books. These games and courses were then delivered to customers that purchased the text book, in an effort to help them better understand the concepts being discussed.
Ameren UE
Problem: Online training content and marketing collateral
Solution: I worked with this client for about 5 years, helping them develop various online training courses for their employees and internal marketing collateral to support the courses. I also helped them develop a scoring and tracking system that would allow them to track student progress, and store their course scores in the employee files within Peoplesoft.
BenHur Construction
Problem: Website update and management
Solution: I worked with the client and my team of designers and developers to create a modern and updated website that would better show off the projects that the client has built over the years. I then continued to manage and update the website until the client's IT department could be trained to take over the site management.
Ben and Jerry's Ice Cream
Problem: Desired an online game that would capture user email addresses for remarketing purposes
Solution: Working with the client's advertising agency, I helped develop the concept for their ice cream factory game, which allowed site visitors to create their own flavors, then watch them be "created" in a virtual ice cream factory. In order for the user to see their finished product and share their new flavor with friends, they needed to enter their email address into the company's database.
Motorola and MTV
Problem: Education and cross promotion of new cell phone and features
Solution: Working with both clients, I helped develop an online interactive demo of the cell phone that would capture the users email address and contact information, and allow the user to send a message to MTV, which would later be displayed on-air during one of their music programs. MTV and Motorola could then re-market to the captured email addresses.
International Brewing Company
Problem: Interactive kiosk for music tour experience
Solution: The client wanted an interactive kiosk to capture user contact information and data during a traveling music festival. So working with the client and their advertising agency, I help create an interactive experience that allowed the end user to create their own music mixes and send them to friends and family. In order to create the mix, the user had to enter some basic demographic data, as well as contact information. Then to share their creations, they had to enter email addresses of the people they wanted to share with. The shared emails were sent with company branding, and encouraged the reciepient to participate in the music tour. The company was also able to re-market to the captured email addresses of the kiosk user.
La Salle Retreat Center
Problem: Website update and marketing strategy
Solution: Working with the client and their executive team, as well as my team of designers and developers, I was able to help them create a modern and clean site that allows them to better communicate with their guests, as well as promote the history and availability of their unique property and services. I have also been able to work with them on various pieces of their overall marketing strategy, and continue to do so to this day.
Horizons Foundation
Problem: Needed fundraising video
Solution: I worked with the client to create the concept for a video showing their work with an orphanage in Pacosmayo Peru. We traveled to Peru and spent 7 days on site at the orphanage and surrounding town, capturing interviews and b-roll footage. I then did the final edit with the client and helped them release the video to their database of donors. Not only did the video inform their donors about the work that their money was doing, but the video also helped them raise an additional $100k to support their mission.
St. Charles County Library Foundation
Problem: Overview and fundraising video
Solution: The client needed a video to show at their annual fundraising gala that would showcase their work, and where donations are being utilized in the county. I worked with the client to create the concept and write the script. Ultimately, I also did the filming and final edit on the project as well. We then released the video to their donor database via an email campaign and presented the video at the Foundation Gala.
Habitat for Humanity of St. Charles County
Problem: Website update and digital marketing strategy
Solution: Working with the client and my team of designers and developers, I was able to help the client create a new and modern website, and continue to help them update and manage their site to this day. I was also asked to join their Board of Directors and Marketing Committee. Since then, I have been able to help with multiple digital marketing campaigns, and help the client with their over all marketing strategy.
Haxan Films
Problem: Custom Websites for Investor Information
Solution: Helped create and manage development of multiple investor websites, allowing Haxan to communicate and share information with their movie investors.
Sound City Studios
Problem: No social media presence
Solution: Helped launch social media accounts and create initial content plan for the studio, leading into the Grammy Awards and the release of the Sound City Documentary film. Added 45k followers with in the first week through grass roots content sharing.
Paul McCartney
Problem: No web presence for album release
Solution: Helped develop and launch website for an album release on a short turnaround. From notice of project to website launch was less than two weeks.