Experience Is What You Get
I'm Kelly Ross Kerr — marketing strategist, author, and creative overachiever. My number one goal is to help you perfect your marketing efforts and grow your business.
I have over 20 years of experience as a marketing professional and digital media producer. My clients have included Paul McCartney, Queen, The Pet Shop Boys, Parlophone Records, A.G. Edwards, AmerenUE, Budweiser, Haxan Films (The Blair Witch Project), Motorola, MTV, Dale Carnegie, the U.S. Men's Olympic Bobsled Team, and many more. I am a 4 time Telly Award Winner and have over 20 years experience in Television and Radio Production with credits including; director, producer, and camera operator for live broadcasts on CNN, Fox News, NBC, ABC, CBS, PBS, and local television stations. In 2005, I was awarded Professional Member of the Year by the National Broadcasting Society and in 2017 was named one of the Top 50 in Business for Streetscape Magazine's Beyond the Best Awards.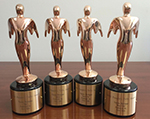 My passions include business, travel, technology, and entertainment. Along with everything listed above, I have 20 years of experience in live theater production, with over 3500 performances to my credit as a sound designer, stage manager, producer, director, or actor and am a three time Kevin Kline Award Nominee. (St. Louis version of the Tony Awards.)
As a creative over-achiever, I love what I do, and I love helping my clients harness the power of creativity and solid marketing strategies to build a successful and transformational business.
Book
Amped Up Digital, Marketing Your Business From Start to Finish and Back Again will help you create a solid marketing strategy for your business, buy back more time, and make more money.
Click here to order a hard copy, ebook version, or audiobook version through Amazon or Audible.
Follow these links for documents mentioned in the book:
The Exercises | Blog Content Calendar | Social Media Content Calendar
"This book has a unique value to it in the world of media strategy in that it does not become more obsolete from the minute of publication. This is the inherent challenge of describing what was the current media conditions and sources when written. What Kelly has done in this book should be appreciated by all company owners and marketing professionals. Rather than favoring a particular channel or digital platform, Kelly provides readers with a repeatable, thus current as the reader believes conditions have changed in their environment, step-by-step strategy and tactics model development. This is a great resource!" -- Tom Searcy
Author of "Whale Hunting: How to Land Big Sales and Transform Your Company" and owner of Hunt Big Sales.
"Amped Up Digital: Marketing Your Business From Start to Finish and Back Again is a succinct exercise in how to market your business, specifically from a digital perspective. The activities at the end of each chapter help the business owner work through and build their own marketing strategy. As a university educator, I find this book a perfect supplement to my marketing course largely because of the no-nonsense way it is written. The activities lend themselves perfectly to my classroom because students can work together and with me to complete them and work toward writing a marketing plan as their final project. This book could be incorporated into any course where integrated marketing communications is a focus including those that discuss marketing, entrepreneurship, and/or startups." -- Dr. Niki Davis
Hospitality and Tourism Administration, SIU
"I just finished your book. Loved it! Love how you explain in detail the options out there and have the exercises to make us create a 'road map' for our own business. I really enjoyed it and gets me motivated to be more organized with my marketing/social media plan.
Thank you!!" -- Heather Deatz, Owner/Event Manager, Baby Kid Expo, LLC